01.08.18
Sullivan Situation Report: January 8, 2017
As Washington, D.C. thaws out from a week of Alaska-like temperatures, both the House and Senate are back in the full swing of things – working on a number of policies and priorities of Alaska and national importance. Building upon a year of successes – including tax reform and the historic opening of ANWR, efforts to support national security and our military, and the placement of Alaskans in key government positions – Senator Sullivan says he is extremely optimistic for what 2018 holds (see an op-ed he recently authored) for Alaska. This week, we take a look back at 2017 in a year in photos. Enjoy!
2017: A Year in Photos
The Alaska congressional delegation meeting with nominee to serve as the Secretary of Interior, then Representative Ryan Zinke, to discuss a wide range of Alaska priorities including the approval of the King Cove road, opening ANWR and the NPR-A to new development, and the Alaska Native Veterans Land Exchange Act (January 11, 2017).
Congressman Young and Senator Sullivan looking out upon a group of Alaskans gathered in Washington, D.C. for the Inauguration of President Donald Trump (January 19, 2017).
Senator Sullivan, throughout the month of January and the remainder of 2017, personally met with nominees to serve within the President's Cabinet.
Senator Sullivan met with Japanese Prime Minister Shinzo Abe for a constructive conversation on deepening the military, economic, trade, and energy relationship between our two countries (February 10, 2017).
In February, Senator Sullivan began a weekly tradition of honoring an "Alaskan of the Week" on the Senate Floor. These individuals, which come from nearly every corner of the state, have all made Alaska a better place through their hard work, dedication and commitment to their communities and cultures.
Delivering his annual address to the Alaska State Legislature (to watch), Senator Sullivan spoke of past challenges and new optimism (February 24, 2017).
In February, Senator Sullivan attended a White House signing of an executive order to begin rolling back the EPA's Waters of the United States (WOTUS) rule – which would have unilaterally expanded the federal government's authority across nearly every corner of Alaska (February 28, 2017).
The Alaska Congressional Delegation and staff were on the grounds of the U.S. Capitol in March for the eighth-annual Choose Respect rally showing support for Alaskans who have been victims of domestic violence and sexual assault. The day also marked the reintroduction of Senator Sullivan's POWER Act, legislation to help expand access to pro bono lawyers for victims who too often fear or are unfamiliar with the justice system, or can't afford a lawyer (March 23, 2017).
The Alaska Delegation toasting to Alaska on the 150th anniversary of the Alaska Purchase and the Treaty of Cession at a reception hosted by the State Department (March 30, 2017).
Senator Sullivan and Coast Guard Commandant Admiral Paul Zukunkft in Seattle, WA touring the nation's only operational heavy icebreaker – the USCGC Polar Star (April 1, 2017).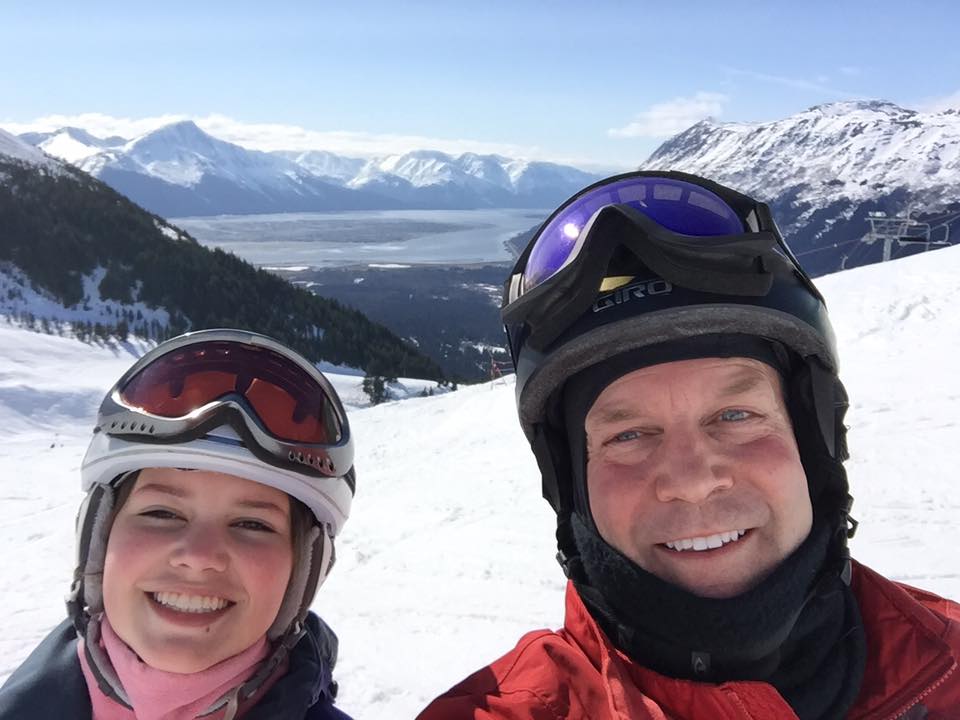 Senator Sullivan and daughter Laurel enjoying some Easter spring skiing at Alyeska in Girdwood (April 16, 2017).
Senators Sullivan and Murkowski speaking to students from Unalaska during their Close Up visit to Washington, D.C. Dozens of school groups, from across the state, participate in similar visits to our nation's capital each year (May 3, 2017).
Senator Sullivan hosted a historic meeting between Secretary Zinke and Alaska Native veterans from across the state to hear their concerns, particularly the need to address the Native allotment some of them missed due to prior military service ( May 30, 2017).
Alaskan student Tully Rice, an aspiring Marine, stopped by to visit with Senator Sullivan and give an update on his studies and life in Craig, AK (June 12, 2017).
In July, Senator Sullivan and number of his colleagues led a successful charge to shorten the August congressional recess in order to address a wide range of priorities and policies, including reforming our onerous regulatory system and tax code, supporting our military's mission, fixing the unraveling disaster of Obamacare, and getting our economy growing again (July 11, 2017).
Senator Sullivan handing out candy at the Golden Days Grand Parade in Fairbanks (July 24, 2017).
In August, Senator Sullivan hosted Admiral Paul Zukunft, Commandant of the U.S. Coast Guard, in Nome, Shishmaref, Cold Bay and King Cove, as well as a visit to the CG Cutter Healy operating in the Bering Sea. The trip highlighted Alaska's unique role in our nation's security, as well as the challenges and economic opportunities our rural communities face as they see increased vessel traffic (August 2017).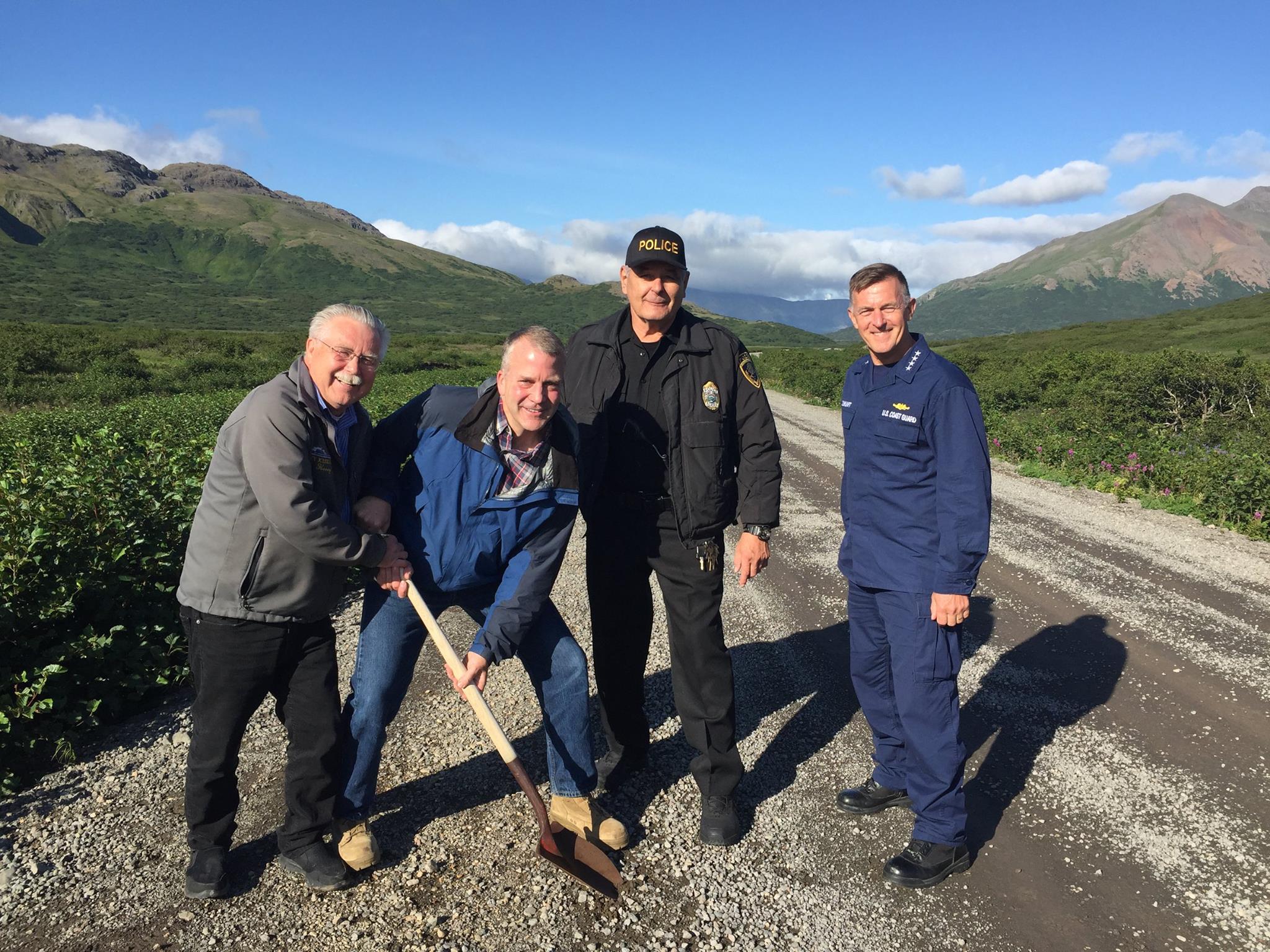 A symbolic gesture, but an important one as Alaskans renew their fight for the construction of a 11-mile-long, single-lane, life-saving road between King Cove and Cold Bay (August 30, 2017).
Senator Sullivan – Chairman of the Senate Commerce, Science and Transportation Subcommittee on Oceans, Atmosphere, Fisheries, & Coast Guard – listening to stakeholders and experts during a full Committee hearing he convened in Soldotna on the reauthorization of the Magnuson-Stevens Fishery Conservation and Management Act (August 23, 2017).
In late August, Senator Sullivan hosted a Transportation Summit in Anchorage with U.S. Transportation Secretary Elaine Chao where she heard from a wide variety of representatives from the Alaska transportation industry ( August 29, 2017).
Senator Sullivan speaking at the 4/25 IBCT Afghanistan deployment ceremony at JBER. Sullivan, who fought to overturn the Army's dramatic downsizing of the brigade, said "there was nothing, and I mean nothing that was going to keep me away from attending this deployment ceremony of the 4/25 (September 13, 2017)."
Senator Sullivan addressing the 2017 Alaska Federation of Natives Convention in Anchorage, where he spoke on a number of important topics, including Alaska Native veterans, the ongoing opioid crisis and the important work being done by Alaskans within the administration (October 23, 2017).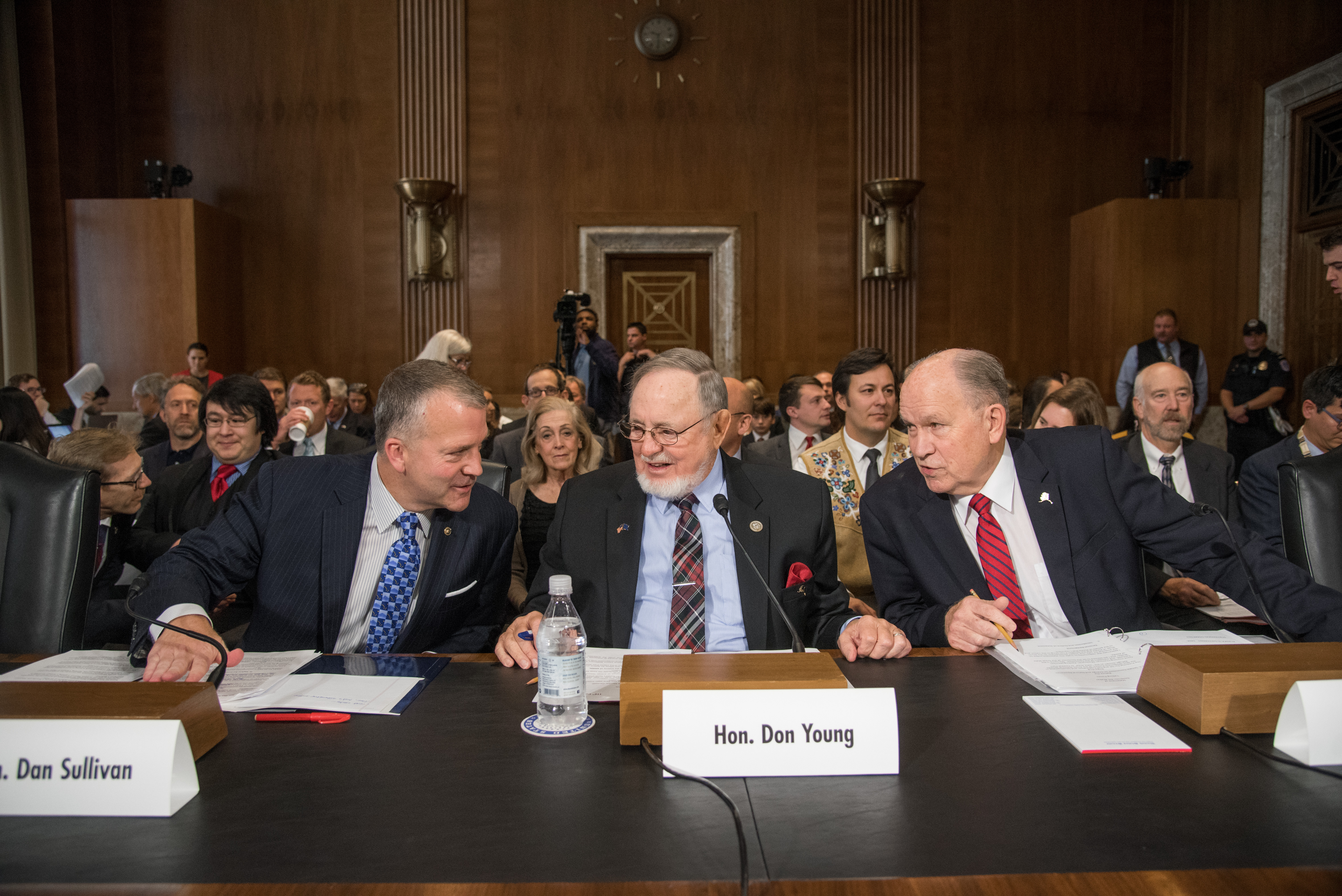 Governor Bill Walker, Congressman Don Young, and Senator Dan Sullivan testify before the Senate Energy and Natural Resources Committee on responsibly developing the 1002 Area of the Arctic National Wildlife Refuge (November 2, 2017).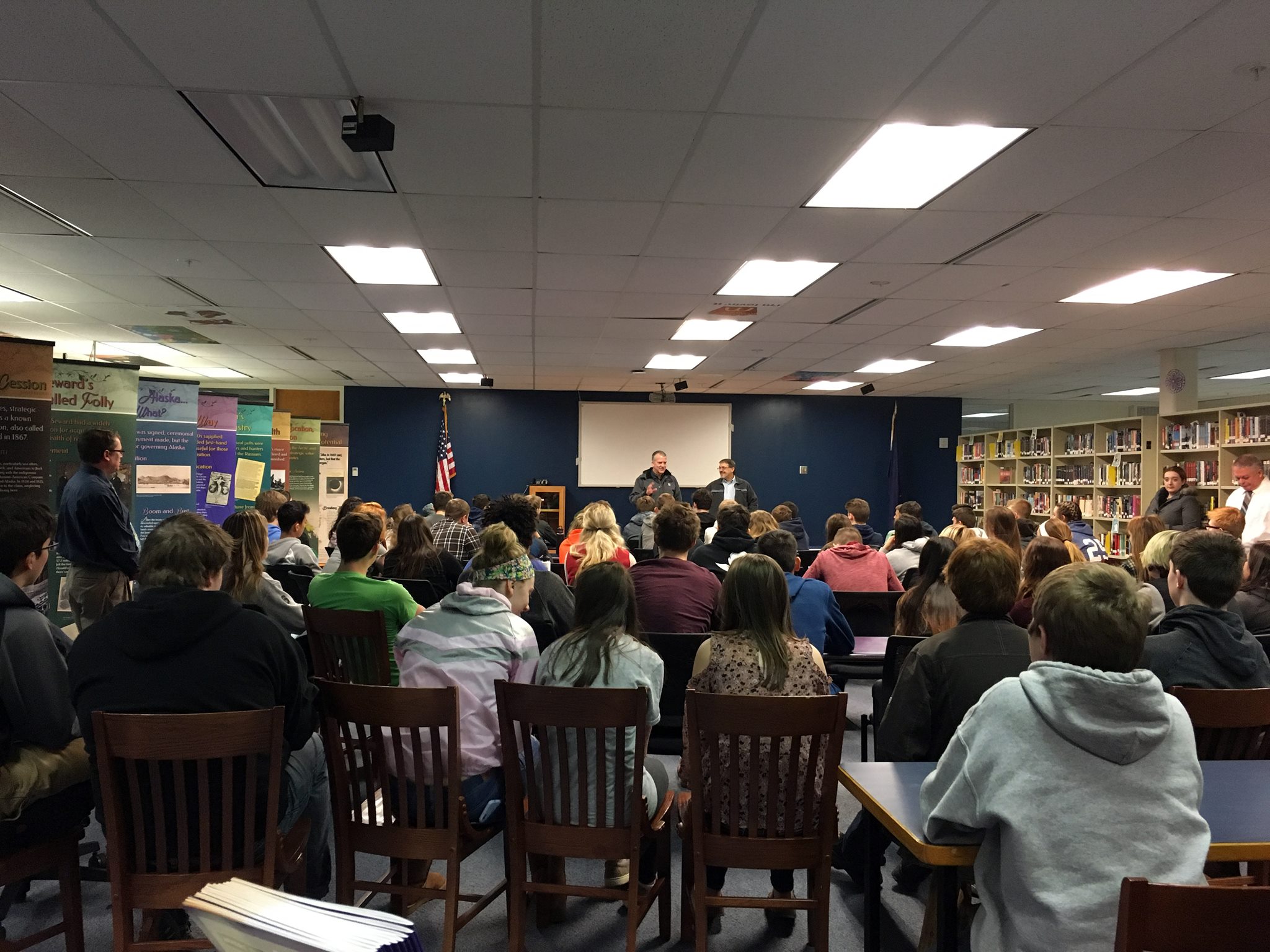 During a visit to Valdez, Senator Sullivan met with a variety of organizations and community members – including visits to the Valdez High School and Gilson Middle School (November 21, 2017).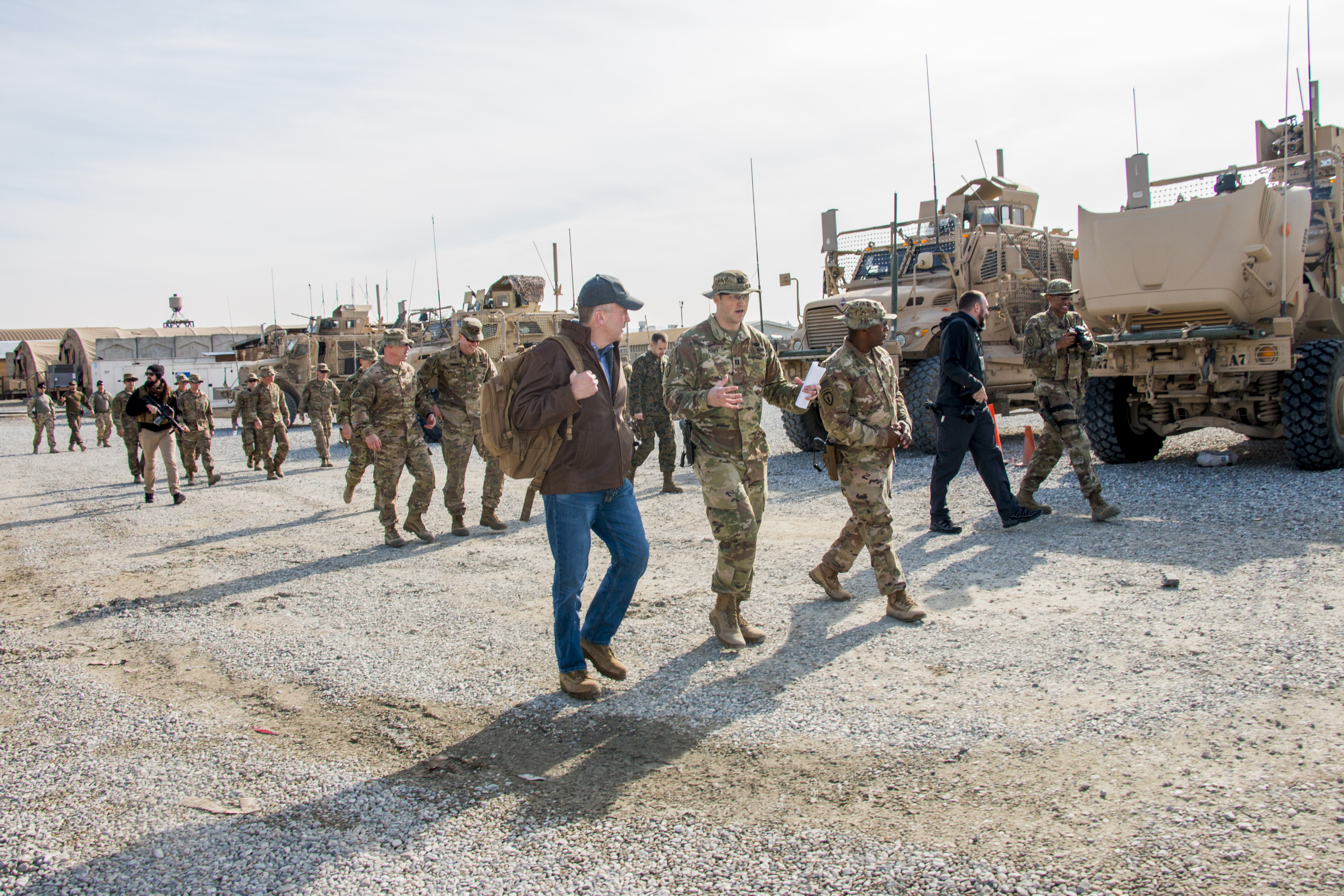 In December, Senator Sullivan traveled to Afghanistan to visit deployed members of Alaska-based military, including members of the Air Force and JBER's 4-25 (December 16, 2017).
Senator Sullivan and his team gather during the final hours of debate on H.R. 1, legislation to reform our nation's tax code and open ANWR's coastal plain to resource development (December 19, 2017).
The Alaska Congressional delegation celebrating the historic passage of legislation to reform our nation's outdated tax code and open ANWR's 1002 to resource development at a White House ceremony. Recognizing the importance of this historic moment, the President asked each member of the delegation to speak on what this means for Alaska and the nation (December 21, 2017).
---