01.12.18
Alaskan of the Week: Jeff Cook
WASHINGTON, DC – U.S. Senator Dan Sullivan (R-AK) this week spoke on the Senate floor to recognize Jeff Cook, of Fairbanks, for his remarkable achievements in the fight against cancer. Cook, who was named the nation's top fundraiser in the American Cancer Society's 2017 Real Men Wear Pink campaign, was recognized as part of Senator Sullivan's series, "Alaskan of the Week."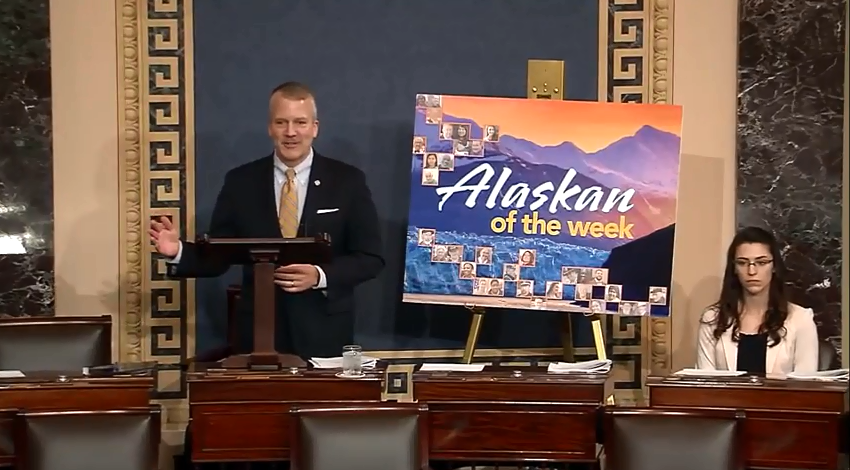 Senator Sullivan honoring Jeff Cook on the Senate Floor as Alaskan of the Week (click here to watch)
TRIBUTE TO JEFF COOK
Mr. President, every week, I try to come down to the floor and talk a little bit about my State and do a little bit of bragging in what we call our "Alaskan of the Week" series. Now, there is a lot to talk about with regard to Alaska. We would love for the people in the Gallery and the people who are watching to come out and visit our great State. It will be the trip of a lifetime. The scenery, of course, is gorgeous, and the mountains are rugged, but it is really the people who make my State so special – rugged, self-sufficient, kind, and very generous people all across an area that is over two and one-half times the size of Texas. I apologize to my Texas colleagues, as they get a little upset when I talk about that, but it is true.
Every week, we have been recognizing a group or a person who has worked to make Alaska a stronger place, a stronger community – a State that, I think, is the best State in our great Nation. I call these individuals our Alaskans of the Week.
Today, I take all who are watching to Alaska's interior, to a town called Fairbanks, AK, where about 32,000 of my fellow Alaskans live. It is a beautiful, wonderful place. Fairbanks is hot in the summer. My wife and I were married there many years ago. It was over 90 degrees when we got married in August, but it is really cold in the winter. We spent January 1, 2000 – the millennium celebration – in Fairbanks with our kids and our family. It was 50 below zero without the windchill – cold. It is a place I love, where my wife was born and raised, where we lived, where my in-laws still live, and the place Jeff Cook, our Alaskan of the Week, calls home.
Jeff has been in Fairbanks his whole life. His parents moved to Fairbanks in 1938. He went to college in Oregon, and his wife Sue was there, but the couple moved back to Alaska, to Fairbanks, and started a family. He is now 74 years young. He and Sue have four children, two of whom have settled in Fairbanks, and they have five grandchildren. He is the patriarch of not only a great family but of many community organizations throughout Fairbanks and, really, Alaska.
Throughout the years, Jeff has had a career in real estate, in business. He has sat on numerous boards –community boards – and been in community groups. Let me just give a couple of examples of his community work, of his sitting on the board of the Fairbanks Chamber of Commerce, the University of Alaska Board of Regents, the Rotary Club of Fairbanks, the Greater Fairbanks Community Hospital Foundation board, the board for the State of Alaska Chamber of Commerce, the Rasmuson Foundation board, and the boards for Alaska Airlines and Wells Fargo Bank. This is an individual – a leader – who has been involved in his community for decades. He is a perfect example of the community-minded individual whom we call our Alaskan of the Week.
We could be done right here. It is a pretty amazing career –a great example of someone who is dedicated to his State, to his country, to his community. Yet Jeff has done a lot more. He recently used all of his energy, all of his experience, all of his community involvement to embark on what really has become an extraordinary fundraising campaign to raise money for cancer research--so important for our Nation, so important for Alaska. This became a personal issue for Jeff. Let me tell you this story.
Last March, he and Sue received, really, a devastating phone call from their youngest daughter Chrissy, who is 34 and lives in Las Vegas with her husband and 2-year-old daughter. She called to tell them the bad news--really, the horrible news that millions of American families hear every year--that she had been diagnosed with breast cancer and that she had a positive match for the BRCA2 gene, which increases one's risk of developing breast cancer or ovarian cancer.
Jeff and Sue felt powerless against this disease when they heard this. He said: ``When you're a parent, it doesn't matter how old your children are; you're supposed to slay the dragons and conquer the monsters'' and protect your kids.
If that were not devastating enough, weeks later, he and his wife made sure that everyone in the Cook family got tested. Unfortunately, five other members of the family tested positive for this gene. They are all being monitored now.
Here is what Jeff said: ``We couldn't conquer the cancer, but we just had to do something.'' He said he had heard about the American Cancer Society's ``Real Men Wear Pink'' campaign--a fundraising program that is held in October. October, as everybody knows, is Breast Cancer Awareness Month. About 3,000 men from across the country participated in the program this year, the ``Real Men Wear Pink'' campaign.
So Jeff started. He started with the pretty impressive goal of raising $5,000 for cancer research and an email list of about 70 people, most of whom were in Fairbanks. Within 90 seconds after sending his first email, he had raised $1,000. Pretty good. Then what happened? The community of Fairbanks, of Alaska--really of the whole country--started opening up to his plea. Donations kept coming in. The more donations he received, the more Jeff worked at raising funds. Many of the people he knew were donating, but what happened? Strangers from across Alaska and from across the country started to send money for this very worthy cause of breast cancer research--often with heartfelt stories of their loved ones, of their own struggles with cancer, or of those of their kids. Someone from a small town in New York State sent him $250.
As the weeks passed, he began to pay attention to how he was stacking up against others across the country. Jeff is a competitive guy. He is very successful. When he reached No. 10 in the country in terms of fundraising for this very important matter, he told one of his friends there was no way he could beat the No. 1 person ahead of him who had raised $30,000--no way. That was a high number. Now, Fairbanks is not a very big city, and the other people on the list above him were from much bigger cities from across the country and had what he thought were larger connections and larger networks. Yet his friend told him: ``Don't underestimate yourself, Jeff.'' After he read that, he said: ``Okay. I'm going for broke.'' This is what he did.
He was all in. He started fundraising everywhere. When it was all said and done, on this campaign, Jeff Cook, from Fairbanks, AK--a town of a little over 30,000 people in Alaska's interior--was the No. 1 fundraiser in America for breast cancer research this year--No. 1. In terms of the American Cancer Society's ``Real Men Wear Pink'' campaign, Jeff Cook raised over $120,000.
If my colleagues were down here, I would ask them for a round of applause.
That was for the entire country. Think about that. We come down to this floor a lot and debate cancer research, medical research--very important. Here is one individual in America who raised over $120,000 through his own energy and passion and for the love of his daughter. This is a testament to Jeff's perseverance, but it is also about the good people in Fairbanks, throughout Alaska, and really throughout the country.
As Jeff said, ``It says so much about our community. There was such an outpouring of love, goodness and generosity. That was the most touching part of [this entire experience].''
What else did Jeff learn? He learned that his daughter Chrissy, who underwent chemotherapy and a double mastectomy, is stronger than he ever imagined. She is recovering well, but she is still in recovery.
I am going to humbly ask my colleagues and those who are watching here and those who are watching on TV to put a prayer in for Chrissy and other cancer victims like Senator Hirono, who was just on the floor. Put them on your prayer lists as they are in recovery – all of them.
I want to end with a big thanks to everybody in Alaska and across the country who are part of the ``Real Men Wear Pink'' campaign who are literally raising hundreds of thousands of dollars for breast cancer research.
I thank Jeff, of course, for not underestimating himself but for another – another –mission well done as a community leader in Fairbanks and throughout Alaska.
Congratulations for being our Alaskan of the Week. I yield the floor.
###
---
---
Next Article
Previous Article