02.09.18
Alaskan of the Week Kirk Alkire Wins Approval for Gold Star Peak
U.S. Board of Geographic Names Unanimously Approves Petition to Name Alaskan Peak in Honor of Gold Star Families
WASHINGTON, DC – Yesterday, hours after the unanimous approval of a petition to name a 4,148-foot peak in the Chugach Mountains "Gold Star Peak" in honor of our fallen service members and their families, U.S. Senator Dan Sullivan (R-AK) spoke on the Senate floor to honor the Alaskan who championed the cause – retired U.S. Army 1st Sgt. Kirk Alkire.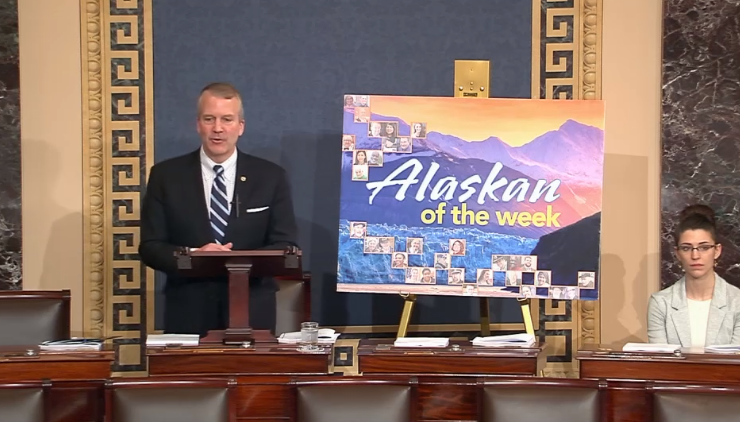 Senator Sullivan Honoring Kirk Alkire as Alaskan of the Week (Click image or here to watch).
A quest that began in June of 2017 to honor the Gold Star families of his fellow Alaska-based 4th Infantry Brigade Combat Team of the 25th Infantry Division, which lost 53 paratroopers during a 15 month deployment to Iraq during 2006 and 2007, Alkire navigated a complicated and often difficult process to name the mountain peak – garnering the support of local leaders, the Alaska Historical Commission, and leading a petition with over 1,500 signatures from all 50 states.
Kirk Alkire atop what is now Gold Star Peak (click here).
Alkire, who traveled to Washington, D.C. this week as part of the final push to seek approval from the Domestic Names Committee (DNC) of the U.S. Board of Geographic Names, sat in the Senate Gallery as Senator Sullivan began his weekly address – unbeknownst to him that he was the subject of the "Alaskan of the Week" series.
Senator Sullivan speaking with Kirk Alkire at the 2017 Anchorage Veterans Day Parade on his efforts to name "Gold Star Peak."
TRIBUTE TO KIRK ALKIRE
Mr. SULLIVAN. Mr. President, as many of my colleagues know, I have been coming to the floor every week to do what I consider the favorite part of my duties serving here in the Senate, and that is to talk about someone special in my great State. We call that person our Alaskan of the Week.
I have been told by some of my colleagues that they look forward to this, and I know the pages do, learning a little bit about Alaska. I do this because I certainly want my constituents to know about so many people in their State--what they are doing, how they are impacting not only their community or State but sometimes even the whole country.
Much of what the country knows about Alaska is what they have seen on TV--beautiful glaciers, giant salmon, skiing, hiking, kayaking, boating. We want everyone to come visit Alaska. It will be the trip of a lifetime, guaranteed.
The real beauty of my State rests in the people who call it home. It is a State of rugged, generous, patriotic people devoted to service to their country, their State, and their communities. In many ways, this is what this ``Alaskan of the Week'' honor is all about.
When we talk about service to our country, Alaska boasts thousands and thousands of Active Duty members of the military, reservists--thousands of reservists--and tens of thousands of veterans, in fact, more veterans per capita than any other State in the country. So many of the veterans in my State have not just served their country but have devoted their time and energy in ways that so many veterans do, helping and caring for other veterans and their families.
Many in the military know it is not easy to serve, but what is often forgotten is that service and the sacrifice of service, particularly military service, often hits the families the hardest. When that service results in the loss of life, the ultimate sacrifice, it is devastating for the families, friends, and loved ones all across communities, all across Alaska, and all across the country. When one of our own loses their life in the fight for freedom, we all grieve. We all grieve.
Today I want to introduce a very special Alaskan, Kirk Alkire, who has devoted countless hours to make sure that those we have lost in battle will never be forgotten and that the families of those who have paid the ultimate sacrifice receive a fitting tribute to their sacrifice.
Kirk believes that such a fitting tribute lies in a peak in one of Alaska's vast, beautiful, almost endless mountain ranges that we have in my great State. This is a peak that actually exists in the Chugach range between Eagle River and Palmer, AK, overlooking the Knik River.
Kirk has been on a quest to name this peak the ``Gold Star Peak.'' It is actually a mountain that is unnamed right now next to another mountain that is named. That mountain is called Mount POW/MIA, but he wants to name this other mountain for the Gold Star families who have lost loved ones who were killed in action defending America. Kirk is passionate about this peak, just as he was passionate about the men and women he served with during his 23 years in the Army on Active Duty.
Let me tell you a little bit about Kirk. He was born and raised in San Jose, CA. He enlisted in the Army right out of high school in 1986. He married his high school sweetheart, Angie, and they had a son, Matthew.
During his time on Active Duty in the Army, like so many soldiers, particularly over the last couple decades, he had various assignments in both airborne and light infantry units spread across the United States--really with deployments all over the world--and eventually he was stationed in Alaska. His final assignment was as a first sergeant with the Alaska-based 4th Infantry Brigade Combat Team of the 25th Infantry Division, a unit that we in Alaska lovingly know as simply the 425. It is a unit that we all care about--the only airborne brigade combat team in the entire Asia Pacific, mountain-trained and arctic-tough.
I had the opportunity to visit a couple thousand of those troops from the 425 who are actually serving their country in Afghanistan. These are the best of the best, and they are always forward-deployed.
Kirk and the 425 deployed to Iraq for 15 months during the 2006 to 2007 surge. Kirk's brigade, during that tough, tough fighting in Iraq during that time, during the surge--one brigade combat team lost 53 paratroopers over that 15 months. Fifty-three American soldiers were killed in action from one brigade, and that doesn't even touch the numbers that were wounded in action, which were many, many more. That is a devastating number.
Kirk now lives in Eagle River, AK. It is a beautiful community in the mountains overlooking Eagle River near Anchorage. Since his return, he has climbed Mount POW/MIA a few times every year to tend to the flag that exists on that peak, again out of patriotism. It was during one of those hikes that he noticed the beautiful unnamed peak right next to Mount POW/MIA, and then he knew what he needed to do.
Mr. President, it is not easy to name a peak, and in Alaska, we have so many mountains that there are dozens and dozens of mountains that are still not named. It is not easy to name the peak of a mountain. So what did he do? Well, first, he secured support from members of the Eklutna Tribe, whose region in Alaska the mountain occupies, so it was a very respectful action toward our very important Native community in Alaska. He then took letters of support and a petition with over 1,500 signatures from all 50 States, 4 countries, and 1 U.S. territory, to the Alaska Historical Commission. I was one of the signors of that petition. He presented all of this to the National Geological Survey, which is part of the Department of the Interior, all to get this peak, this mountain, named for the Gold Star families, the Gold Star Peak. So he worked this hard. He worked this very hard.
Today, I have the honor of announcing on the Senate floor that just this morning, the U.S. Board of Geographic Names, which is part of the Department of the Interior, which votes to name mountains, unanimously voted and approved naming that mountain in the Chugach Mountain range ``Gold Star Peak.'' That is great news. That is hard work.
I am honored to have Kirk sitting up in the Gallery today after his hard work where he was working at the Department of the Interior this morning.
I first met Kirk at a Veterans Day parade in Anchorage, where he told me about his quest to get the mountain peak named. That is where I signed the petition. And then I asked him--I said: Kirk, you served your country. Why are you so motivated and focused and determined to do this?
Do you know what he did, Mr. President? He pulled out 53 dog tags that he had in his pocket with the names of every soldier of the 425 who was lost in Iraq in 2006 to 2007 when he was the first sergeant for that brigade. I held them in my hand. It was powerful and moving, and in some ways it was so horrible to look at because these are the lives and names of the best and brightest we have in America. That is why he did it, and that is why he was motivated.
Because of Kirk and the announcement today, families--whether they are from Alaska or anywhere in America who come visit, families who have lost loved ones who made the ultimate sacrifice serving their Nation will now be able to look up at Gold Star Peak as they drive up the busy Glenn Highway in Alaska, and they will see that 4,000-foot peak soaring into the sky. All of America will know that their loved ones are not forgotten and that the service and sacrifice of the Gold Star families whom we honor are appreciated and honored by a grateful nation.
So thank you, Kirk, for all the work you have put into this. Congratulations on the vote today. I can't wait to get home and see Gold Star Peak, officially named, and maybe, just maybe, get out there and summit it with you someday.
Thank you for being our Alaskan of the Week.
###
---
---
Next Article
Previous Article