01.26.18
SULLIVAN HONORS ALASKANS OF THE WEEK: ALASKA PACIFIC UNIVERSITY NORDIC SKI TEAM
WASHINGTON, DC – This week, U.S. Senator Dan Sullivan (R-AK) recognized the Alaska Pacific University Nordic Ski Team as part of his "Alaskan of the Week" series.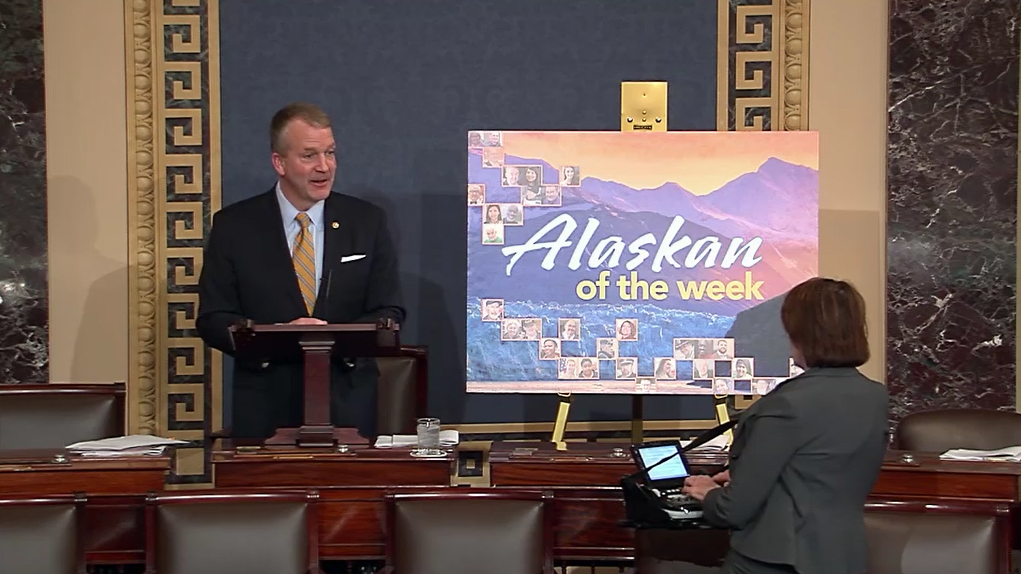 Sullivan Honors APU Nordic Ski Team as Alaskans of the Week on the U.S. Senate Floor (click image or here to watch).
RECOGNIZING THE ALASKA PACIFIC UNIVERSITY NORDIC SKI TEAM
Mr. President, every week, I have been coming to the floor, going on 2 years now, to talk about what makes my State, the great State of Alaska, such an amazing place to live--gorgeous, untouched mountains, the glaciers, the wildlife. I have live web cams in my office. For people who want to see the bears, walruses, the salmon spawning, bears scooping up these amazing fish from the choked streams, please come on by. Most of that happens during the spring, summer, and fall. The winter, of course, is the longest season in Alaska. In my opinion, it is one of the best times to experience our State.
For those watching on TV or in the Gallery, we want to welcome you to Alaska. Come on by. You will have the trip of a lifetime. I guarantee it.
It is truly the people who make my State such a truly special place. What we try to do each week is talk about some of those people in what we have termed our ``Alaskan of the Week'' celebration, to talk about community, to talk about so many Alaskans who are helping not only their State and their community but their country, generous yet tough and competitive people who make up our Wonderful State.
Many of them get very excited when the snow starts to fall. They strap on their skis and they fly through the snow. One group of Alaskans who every winter strap on their skis and train--actually train all year round and compete on the hundreds of miles of Anchorage's trail system--is the Alaska Pacific University Nordic Ski Program. Hands down, it is the very best ski team in America. They are our Alaskans of the Week.
Let me tell you a little bit about the APU Nordic Ski Program. Led by Coach Erik Flora, Alaska's APU Nordic Ski team year after year produces some of our Nation's finest athletes, who compete in races all across the world, including the upcoming Winter Olympics in Korea. As I mentioned, year after year, APU athletes are simply the best cross-country skiers in the Nation. Their depth of talent was put on display earlier this month at the U.S. Cross Country Championships in Anchorage, where they took 11 out of the 24 podium spots in the senior races and 8 out of the 24 junior podium spots. Think about that. One team dominated the U.S. Cross Country Championships this year.
They train year-round. In the summer, the ski team trains on Eagle Glacier, accessible by a 10-minute helicopter ride from Girdwood, AK. As the Anchorage Daily News put it, this unique training area has ``been a springboard to APU's international and domestic success [and dominance]. Flora and his staff have groomed serpentined, undulating trails there that mimic [international] courses'' on a glacier in Alaska in the summer. That is great training. It is year-round.
In addition to training and coaching these world-class athletes, the APU Nordic Ski Center also has a popular junior program, which helps develop the next generation of Olympic skiers.
I have had the honor to get to know some of these skiers, these wonderful athletes, over the past few years. They certainly would make Alaskans proud, but I think they would make all Americans proud. They are great young men and women who are dedicated, disciplined, humble, hard-working, and very smart. They are students; they are very, very good students. I even had the opportunity to go and train with them occasionally. I am more of a downhill skier than a cross-country skier. I went with them in the fall, when there wasn't any snow on the ground, to do some mountain interval training, running with them up and down the mountains. To witness and train with these world-class athletes was an amazing experience. I must admit, it was a difficult experience for me. I think I was smoked after about 10 minutes with them, and they had about a 2-hour workout session on the mountain. It gave me a sense of how hard they work and what dedicated, world-class athletes we have in my hometown.
Next month, several of these APU skiers will travel to Korea to represent the United States of America at the Winter Olympics, the way they have in previous Olympics. They are top skiers for America. Let me name a few.
First and I would say foremost, Kikkan Randall, America's most decorated cross-country skier in U.S. history and an Alaskan icon--she will participate in her fifth Winter Olympics. Let me say that again. She will participate in her fifth Winter Olympics. That is an incredible record for any American athlete, winter or summer games. She is also a wonderful person. She is very, very community-oriented. Alongside her will be APU teammates Sadie and Erik Bjornsen--they are brother and sister--Rosie Brennan, and maybe, hopefully, even a few more. Additionally, their APU teammate Jess Yeaton, who was born in Australia but grew up in Alaska, will ski for the Australian cross-country ski team. You are getting the picture. This is a group of people who are going to do very, very well in the Olympics and are going to represent our country and other countries proudly.
Cross-country skiing is woven into the fabric of Alaska's winter community. It brings people together, and it helps build community. So many of our skiers, including and especially the APU team, are also generous and kind in helping others learn how to ski and graciously host skiers from all across the country, as was on full display during the recent U.S. Cross Country Championships.
On behalf of all Alaskans--really, on behalf of all U.S. Senators--I wish the team good luck in Korea. We will be watching. I know you will make Alaskans and our fellow Americans very proud as you compete on the world stage once again. Once again, thanks for all you do. Thanks for your tremendous hard work and dedication. And to the APU Nordic ski team, thanks again for being our Alaskans of the Week.
I yield the floor.
###
---
---
Next Article
Previous Article