10.03.18
Sullivan Welcomes USTR Decision to Withdraw Proposed Tariffs on Alaska Caught Salmon
Sullivan: "Important change for Alaska's seafood industry and the more than 60,000 jobs it contributes to our economy"
WASHINGTON, DC – U.S. Senator Dan Sullivan (R-AK) – the chairman of the Senate Subcommittee on Oceans, Atmosphere, Fisheries, and Coast Guard – welcomed the recent decision by the Office of the U.S. Trade Representative (USTR) to remove proposed tariffs on Alaska salmon from a list of approximately $200 billion worth of additional tariffs on Chinese imports. The change comes following months of engagement by Senator Sullivan and his staff to protect hardworking Alaskan fisherman and to educate the administration on the unintended impacts of this proposal.
"I commend Ambassador Lighthizer and the Trump administration for listening to our concerns, for taking thoughtful guidance and input, and for making this important change for Alaska's seafood industry and the more than 60,000 jobs it contributes to our economy," said Senator Sullivan. "While I am supportive of the administration's broader efforts to address China's unfair and non-reciprocal trading practices, targeting an American product, harvested by Alaskan fishermen on American flagged vessels runs completely counter to the administration's strategy regarding China.
"The Alaska seafood industry is the lifeblood of our coastal communities, which is why my team and I engaged at every level to ensure these changes were made," Sullivan said. "It's a good first step, accounting for approximately $250 million worth of salmon imports caught primarily by Alaska fishermen. Without it, policies meant to counter China's unfair trading practices would have actually harmed Alaskan workers and industries due to the fact that a portion of Alaskan seafood harvests go to China for limited reprocessing before being sold back to American companies and consumers, or elsewhere throughout the world."
Since before the USTR announced its list of proposed tariffs on China, Senator Sullivan has worked to ensure the Alaska seafood industry is protected. This included numerous phone calls and meetings with Ambassador Lighthizer and USTR staff, regular discussions with Secretary of Commerce Wilbur Ross and President Trump, as well as public testimony before the U.S. International Trade Commission. Senator Sullivan's engagement on the issue continues.
On September 28, 2018, the Office of the U.S. Trade Representative published a modification in the Public Register to a list of additional tariffs on goods from China announced on September 17, 2018. This modification deleted the following Harmonized Tariff Schedule of the United States (HTSUS), among others:
0304.81.10 Frozen salmon fillets, skinned, in blocks weighing over 4.5 kg, to be minced, ground or cut into pieces of uniform weight
0304.81.50 Other frozen salmon fillets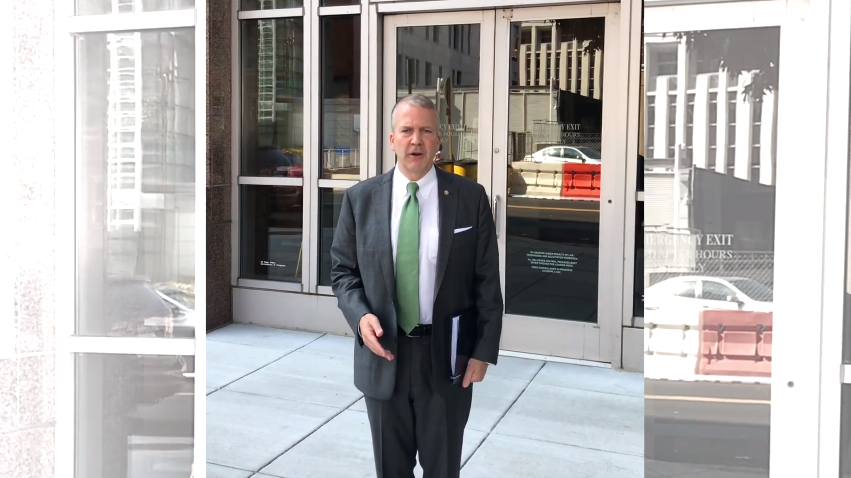 Senator Sullivan sharing his thoughts following his August 23, 2018 testimony to the U.S. International Trade Commission on proposed seafood tariffs (click image or here to watch).
For more information on the $200 billion trade action against products of China and their impact to Alaska seafood, please see Senator Sullivan's written testimony to the U.S. International Trade Commission offered on August 23, 2018.
###
---
---
Next Article
Previous Article