10.04.18
Sullivan-Backed Bills to Combat the Opioid Epidemic Set to Become Law
Legislation Lifts IMD Exclusion - which banned Medicaid payments to treatment facilities that have more than 16 beds
WASHINGTON, DC – U.S. Senator Dan Sullivan (R-AK) is applauding the passage of the SUPPORT for Patients and Communities Act, a bipartisan, bicameral package to address the nation's unrelenting opioid epidemic that took the lives of more than 72,000 Americans last year – the highest rate in history. The legislation, which represents the work of thirteen House and Senate Committees and includes provisions authored by hundreds of Members of Congress, now heads to the President's desk for signature.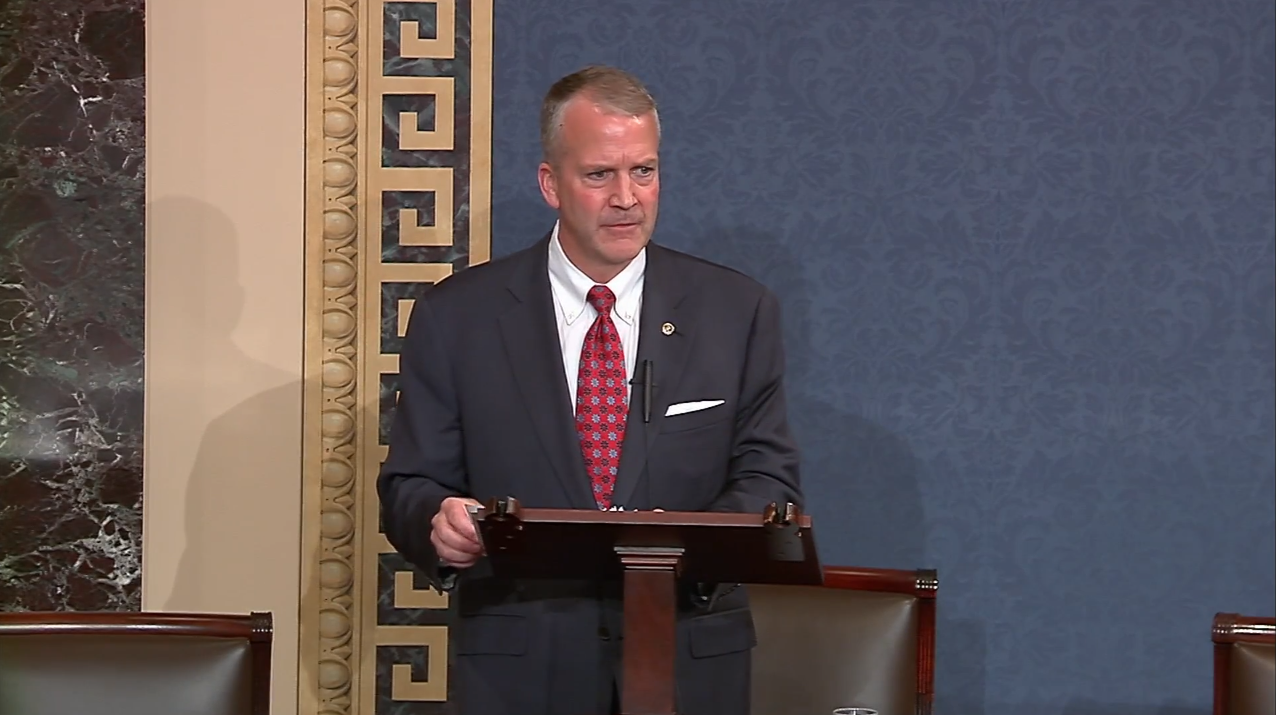 Senator Sullivan Discussing Bipartisan Package to Address Opioid Crisis (click image or here to watch)
"This is a huge issue for all of us and a really important one for the state of Alaska. The numbers are staggering: 72,000 Americans – rich, poor, black, white, native, non-native, young, old – died of drug overdoses last year. It's tragic and extremely hard to comprehend. And this body is finally waking up to this challenge," Senator Sullivan said yesterday in an impassioned speech on the Senate floor.
The SUPPORT for Patients and Communities Act is a multipronged approach that takes a particular focus on wellness, prevention and innovation. The bill takes important steps to reduce illegal drug use and its supply chain – including legislation known as the STOP Act to help stop synthetic drugs from entering the country through the U.S. Postal Service and the reauthorization of the High Intensity Drug Trafficking Area program. The bill also works to support the infrastructure and resources necessary to adequately respond to this crisis, including assistance for states in addressing substance use disorders, support for in-school and early childhood education programs, and increased access to treatment, health professionals, long-distance care, and recovery housing, among other things.
"This bill includes very significant funding to address this crisis – billions of dollars. It importantly includes legislation authored by my good friend Senator Rob Portman, the STOP Act – which I was an early cosponsor of – that focuses on stopping the killer-drug fentanyl from coming from places like China and Mexico and killing our people," said Senator Sullivan. "The bill also includes a provision I authored that gets 5% of the funding to Native Health Organizations. Because, as we've all seen, some of the Native organizations in the Lower 48 and Alaska have really strong, far reaching access to some of our rural citizens. So there's a huge amount of good policy within this bill. While we're not going to fix this opioid, heroin addiction problem for years to come, we are very focused on it in Congress, in a very bipartisan way. If you're going through recovery, like I know so many good people in Alaska are, this is very encouraging news."
Importantly, the SUPPORT for Patients and Communities Act also includes a Sullivan-backed provision to lift the decades-old Institutions for Mental Diseases (IMD) exclusion – which restricts states from using federal Medicaid dollars to pay for treatment at residential mental health or substance abuse facilities with more than 16 beds. The final House-Senate opioid package lifts this prohibition for five years so more Americans can access services at inpatient facilities.
"In states like Alaska, where in-patient treatment is already significantly limited, the IMD exclusion has been long viewed as a leading barrier to treatment. It's been identified by hospitals, providers and medical professionals as needing to be reformed in order to improve patient access to life-saving treatment facilities and programs. Lifting this cap will go a long way in helping some of our most vulnerable Alaskans in their time of need," Senator Sullivan said.
Other Provisions in the SUPPORT for Patients and Communities Act championed by Senator Sullivan:
21st Century Cures Act Funding Extension – Reauthorizes and improves the state targeted response grants from the 21st Century Cures Act to provide funding to Tribes and to improve flexibility for states in using the grants. Includes language championed by Senator Sullivan for a 5% set aside for funding made available through the Act to tribe and tribal organizations. Also provides resources for tribes, including outreach and technical assistances, to encourage grant application participation.
Opioid Addiction Recovery Fraud Prevention Act – Includes legislation cosponsored by Senator Sullivan aimed at protecting individuals with opioid use disorder and their families from harmful and misleading addiction treatment programs or products. The provision will hold fraudulent substance abuse treatment programs and recovery centers accountable by empowering the Federal Trade Commission (FTC) and state attorneys general to bring enforcement actions to combat such scams. For more information, click here.
Synthetics Trafficking and Overdose Prevention (STOP) Act – Includes legislation cosponsored by Senator Sullivan to help stop dangerous drugs like fentanyl and carfentanil – primarily from China – from being shipped through the postal system drug by traffickers here in the United States, particularly important to addressing the major influx of drugs entering remote Alaskan communities.
The SUPPORT for Patients and Communities Act builds off previous efforts to assist in battling the opioid epidemic, including the passage of both the Comprehensive Addiction and Recovery Act (CARA) in 2016 and the Fiscal Year 2018 Omnibus Appropriations bill in March which included $4.7 billion to fight the opioid crisis ($1 billion in grants to states). Last week, President Trump signed into law the Fiscal Year 2019 Labor/ Health and Human Services Appropriations bill, which included $3.8 billion in funding for opioid-related programs.
The Department of Health and Human Services recently announced that Alaska will receive $10.4 million in opioid grant funding. This includes $4 million in state opioid response grant funding, in addition to the $6.4 million in grants 24 health centers in Alaska received earlier this year. State opioid grants provide flexible funding to states to implement opioid use disorder interventions in the best way that fits their needs. In addition, in June 2018 the U.S. Department of Labor awarded the State of Alaska a $1.3 million grant to provide career, training, and supportive services for individuals in Alaska communities impacted by the opioid epidemic.
For a list of notable provisions within the bill, click here.
For information on Senator Sullivan's work to combat the opioid crisis, click here.
###
---
---
Next Article
Previous Article